Slovenia is known for its beautiful landscapes, stunning caves, and a lovely population that welcomes visitors with open arms. Apart from the fantastic terrain and natural sites found in Slovenia, the Central European nation also offers an excellent opportunity for learning.
Slovenia country has top-notch universities and colleges that provide a variety of competitive and relevant programs. The largest and oldest university in Slovenia is the University of Ljubljana. The learning institution was founded in 1919 and currently has a student population of over 60,000. The University of Ljubljana has 22 faculties, three academies of art Fine Art, Music, and an Academy of Theatre, Film, Radio, and Television.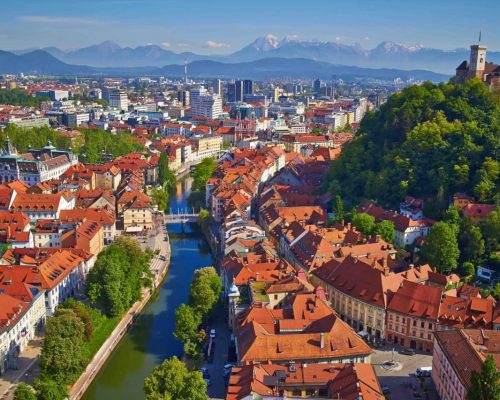 The territory is mostly mountainous with a mainly continental climate, with the exception of the Slovene Littoral that has a sub-Mediterranean climate, and the northwest that has an Alpine climate. It has a small, open, and export-oriented economy.
Slovenia has a coastline of 24 miles on the Adriatic Sea. Mt. Triglav, towering to a height of 2863 m, forms the highest peak in the Slovenian Alps. It is also represented on Slovenia's national coat of arms. Slovenia's Skocjan Caves are included in the UNESCO World Heritage Sites List. 
Benefits of Studying in Slovenia
Affordable Study and Living: Studying and living in Slovenia is cheap as compared to other European countries. Students can expect to spend between 550 and 600 –euro- per month, inclusive of accommodation, transport, food, and study material. 
Scholarship Programmes and Financial Support: In Slovenia, there are many scholarship programs for international and Slovene students. The Government of Slovenia offers scholarships, grants, and other financial support to the students on the basis of merit or needs. 
List of Document Required
Notarized copies of class 10th & 12th mark sheet, and certificate
IELTS or TOEFL score (whichever is applicable, must be notarized)
Passport copy (notarized)
Proof of pre-university entrance exam ('if any', must be notarized)
One letter of recommendation from the school
Statement of Purpose
EuroLife Student Services
Advise choosing the right University or College.
Help selecting the right study programs based on candidate's academic profile and career interest.
Help students with the admission to the College or University as per their choices.
Help preparing the complete application for Student Visas.
Help with the extensions of Study Permit.
Help finding a job while studying or after finishing study.
Help preparing the application package for Multiple Entry Visa.
Help students with Permanent Residency.