Slovakia emerged as a country twice in the last century, once as a result of the Munich Agreement and then the peaceful Velvet Revolution in 1989. This country that was once part of Czechoslovakia is landlocked and is now bordered by the Czech Republic, Austria, Poland, and Hungary. Slovakia was officially accepted into the European Union in 2004 and hopes to convert its Koruna to the Euro in the upcoming years. Students have the option to study abroad in Slovakia through several studies abroad programs available to them. 
The capital, Bratislava, boasts impressive architecture, with buildings influenced and shaped by customs and folk tradition, including the Bratislava Castle. While the Bratislava Castle is more widely known, Slovakia has numerous other medieval castles.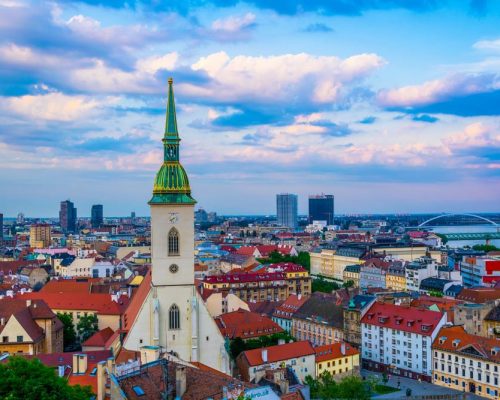 Studying and living in Slovakia, one can learn their local language. By continuously listening and practicing the speaking language, one can learn the Slovak language easily. Studying in Slovakia is an effective way by which one can learn the language.
While studying abroad in Slovakia, you not only make friends but also build professional contacts by working part-time, volunteering or internship. 
Benefits of Studying in Slovakia
High Educational and Research Standards: The education standard in Slovakia is quite high. In Slovakia, there are many higher education institutions offering a wide range of study programs at all degree levels.
Low Study and Living Cost: Life in Slovakia is affordable. The study and living cost is low as compared to western European countries. 

Several Scholarship Programmes: The Ministry of Education, Science, Research and Sport of Slovakia provide many scholarships to international students, such as Slovak Government Scholarships, Slovak Ministry of Education Scholarships, National Scholarship Programme.
List of Document Required
Notarized copies of class 10th & 12th mark sheet, and certificate
IELTS or TOEFL score (whichever is applicable, must be notarized)
Passport copy (notarized)
Proof of pre-university entrance exam ('if any', must be notarized)
One letter of recommendation from the school
Statement of Purpose
EuroLife Student Services
Advise choosing the right University or College.
Help selecting the right study programs based on candidate's academic profile and career interest.
Help students with the admission to the College or University as per their choices.
Help preparing the complete application for Student Visas.
Help with the extensions of Study Permit.
Help finding a job while studying or after finishing study.
Help preparing the application package for Multiple Entry Visa.
Help students with Permanent Residency.