Hungary is one of the European countries that has invested a lot into higher education, and the results are noticeable. An increasing number of internationals choose to study for a Bachelor's or Master's degree at Hungarian universities.
With low tuition and living costs, it's easy to understand why. But that's not all! Universities in Hungary also have a long history of providing quality education, the oldest institution being established as early as 1367. Bridging Central and Eastern Europe, Hungary combines many of the attractions of both regions – but above all prides itself on having its own distinctive identity. This pride is not without foundation.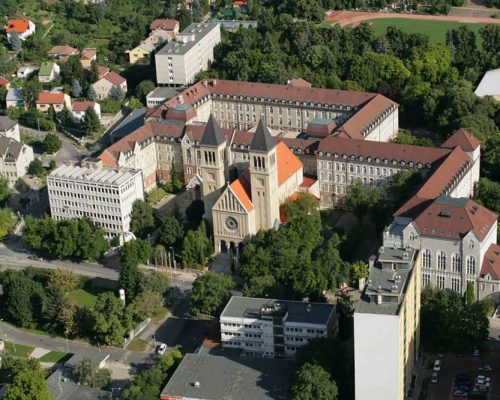 Hungary is located in Central/Eastern Europe, bordering e.g. on Austria in the West and Romania in the East. Though relatively small, Hungary has much to offer visitors, from the architectural and cultural delights of capital city Budapest to vineyard-covered hills and historic castles. With so many natural and manmade attractions, combined with relatively low living costs and a strong focus on internationalization, it seems likely that Hungary's popularity as a study destination will continue to grow.
1. Affordable study programs: As an international student, you'll pay between 1,200 and 5,000 EUR per year for most study programs at public universities. Only Medicine and Dentistry degrees can cost as much as 16,000 EUR per year.
2. Scholarships are available: You can further reduce your expenses by applying to one of the scholarships available in Hungary. Check if you meet the criteria, submit the necessary documents or letters, and fingers crossed!
3. Explore Hungary's rich history and impressive buildings and monuments: Hungary is a beautiful country. While living and studying here, you should visit the Buda Castle, the Hungarian Parliament building, the Fisherman's Bastion, etc.
List of Document Required
Letter of Acceptance from a Recognised University.
English proficiency requirements g. IELTS, TOEFL
A certified copy of your academic transcripts, educational certificate (Degree, Diploma etc.)
Photo copies of first and last pages of your passport.
Passport sized photographs.
EuroLife Student Services
Advise choosing the right University or College.
Help selecting the right study programs based on candidate's academic profile and career interest.
Help students with the admission to the College or University as per their choices.
Help preparing the complete application for Student Visas.
Help with the extensions of Study Permit.
Help finding a job while studying or after finishing study.
Help preparing the application package for Multiple Entry Visa.
Help students with Permanent Residency.